If you have information about Alumni who have been honored for special service, please share with our classmates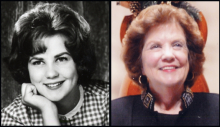 On May 1, 2013 - a scholarship will be named in Jean's memory at the Law Day Dinner in Sacramento. It would also have been her 70th birthday.
"WONDER WOMAN JEAN MCEVOY"
Wonder Woman Jean McEvoy follows in the footsteps of Justice

Frances

Newell Carr. She is a feisty, intelligent, skillful attorney dedicated

to

improving women's lives through the law. She has served as a mentor and friend for numerous women lawyers in the Sacramento legal community.
Law is Jean's second career. Jean gradu-ated from McGeorge in 1991. She was a 1966 graduate from UC Berkeley with a degree in Anthropology.

Prior to attending law school, she worked in personnel management at the UC Davis Medical School, the University of London and the University of Witwatersrand in Johannesburg, South Africa.

While working in South Africa, Jean was a member of the Black Slash, who fought to help black women obtain working passes. She was also a member of the South Africa Race Relations Institute.
Jean is an excellent lawyer concentrating in the challenging fields of Estates, Trusts and Conservatorships. She started her own successful solo practice in 1998 at a time when women lawyers were routinely told they couldn't succeed on their own. She has been a court-appointed attorney in many Guardianship and Conservatorshipcases. She is also a trained mediator and has employed her extraordinary communication skills to successfully settle numerous estate, trust, guardianship and conservatorship cases.

Jean is Past President of the Probate and Estate Planning Section for the Sacramento County Bar Association. She has a 5.0/5 Preeminent "AV" rating from Martindale-Hubbell and is regarded as one of the top lawyers in her field.
Jean has served as a faculty member at Humphrey's College in Stockton and in Sacramento, National University and American River College.

She has encouraged many of her students to become lawyers and has supported them with wisdom and counsel long after they graduated from law school.
Jean's devotion to the Sacramento community makes her an ideal choice to receive WLS' most prestigious award. She was WLS President in 2002; she was a member of and Co-Chair of WLS' Development Committee from 1995 to 1998; and she is one of the founders of WLS' Art Fest. She served as a board member of the Women's Wisdom Project, has been active in Jericho, and in Operation Protect and Defend.

In 2005 Jean received the Bion M. Gregory Award for leadership and service. In 2008, she received the Robert T. Matsui Award for Excellence in Citizenship for her work with Operation Protect and Defend. She has been an energetic leader of Sacramento County Bar Association Conference of Delegates, and with Barry Matulich drafted a resolution which enhanced liability for attorney-in -fact elder abuse. SB 1038 will take effect in Janu-ary 2012 and reflects a significant change in favor of protecting the elderly. Jean's devotion towards the protection of the elderly and the disabled through the legal system is well known.
Jean has been a true mentor and leader in the Sacramento legal community. Numerous letters of support were written illustrating Jean's support to the success of other women in the legal profession. Jean has always had the courage to speak out against gender bias in the Sacramento legal community.

Jean's commitment to supporting other women in our legal community is evident by her day-to-day conduct. She epitomizes what it means to be a mentor. If the definition of a leader is someone who helps others around her to be better than they ever thought they could be then Jean fits that definition perfectly.

Justice Carr would be very proud of our own Jean McEvoy.

As one of the many supporters wrote, '[s]electing Jean for this award would honor the memory of Justice Carr. Like Justice Carr, Jean also has a vision for and is committed to this community.' Jean McEvoy is truly a role model for all of us."
THE KAYE PETTY PAUGH ALUMNI AWARD
KAYE PETTY PAUGH, the wonderful, dedicated, kind and generous teacher at Palo Alto High School will be retiring this June 2010. Mrs. Paugh has been a source of inspiration for the choir as one of its finest alums. Her mother, Gail Wells Petty, was an organist and accompanist who, according to Kaye, would often lend her talents to her church, her community and to any singers who needed it.
A graduate of Paly in 1961, Kaye was a choral student her entire high school career. She cites Marjorie Klein who gave her the love for choral music. Her brothers Richard and Scott and sister Jane were also members of the Paly Choral programs. It is no surprise then that her children Amy, Kevin, Keith and Emily have also been standout members of the Paly Choral program as Concert Choir members, Spectrum Singers, Presidents of the Choir and Madrigals Singers. Kaye and her siblings have extended their generosity to the choral program through the Gail Wells Petty Memorial Scholarship in memory of her mother. It has distributed more than $15,000 in support of Paly Choir students.
This award is funded by the many students and families who have been touched by Mrs. Paugh's grace. We look forward to honoring Kaye every year by acknowledging a senior student whom we believe will carry on the tradition of Paly Choral Program's commitment to community and generosity. Thank you Kaye for setting the example.
To contribute toward this award, alumni choir members and families may make tax-deductible donations of any amount at any time to Friends of the Palo Alto High School Choir. On the donation web page are instructions for mailing a check or donating online and specifying the PAHS Kaye Paugh Alumni Award for your donation.