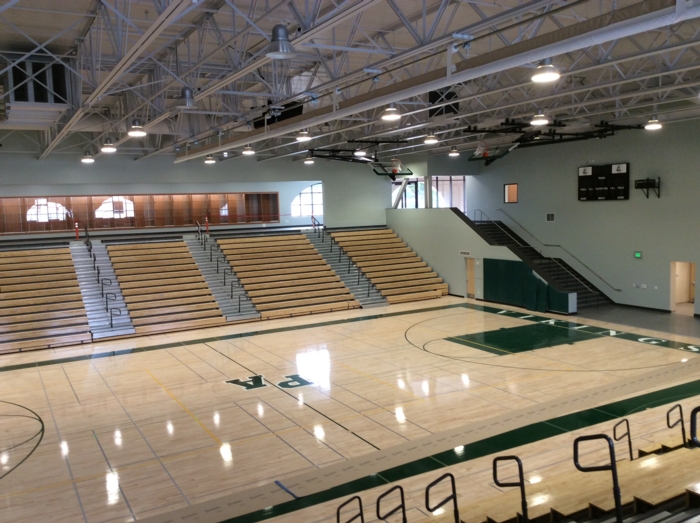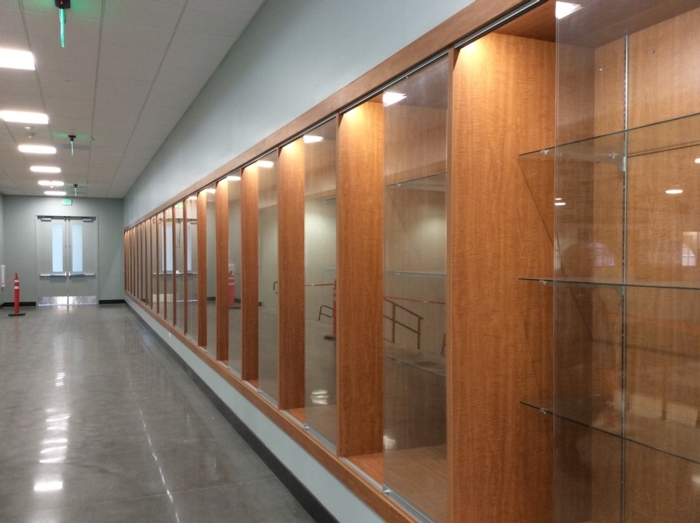 HALL OF FAME - Trophy Cases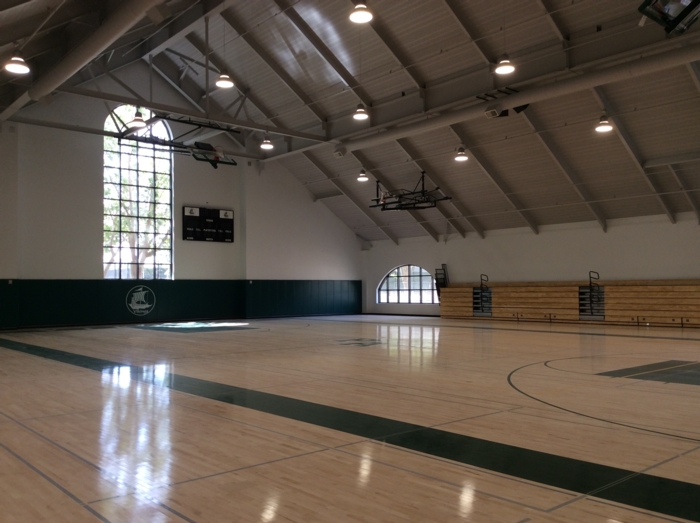 BELOW; 2016 Aug 23 pictures of progress of New Gym
As you can see they are following the Old Paly Architecture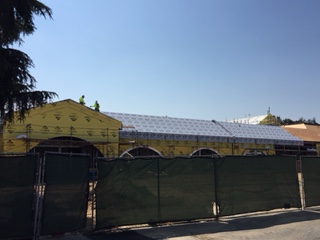 Smaller gym in background with pitched roof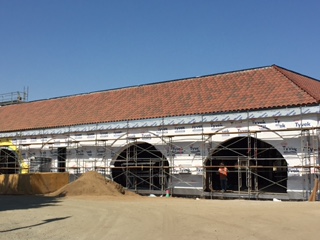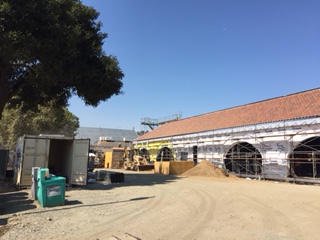 This second video (below) was created by Paly Historians for the Farewell Progam
SCROLL DOWN FOR MORE PICTURES, ARTICLES AND VIDEOS

OLD GYM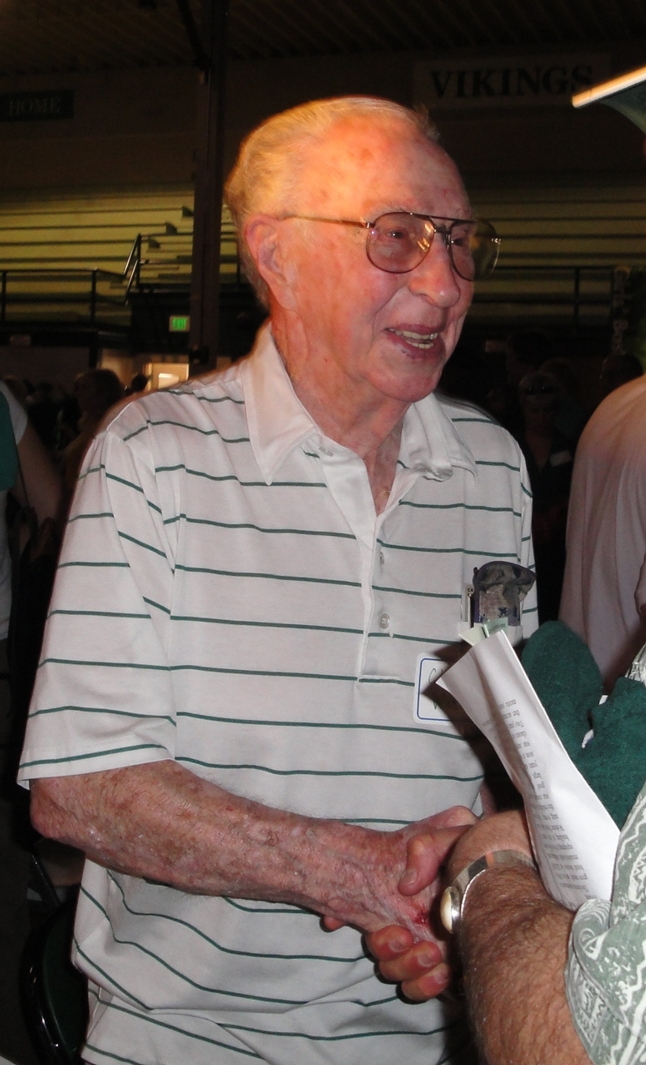 COACH WISER at Gym Farewell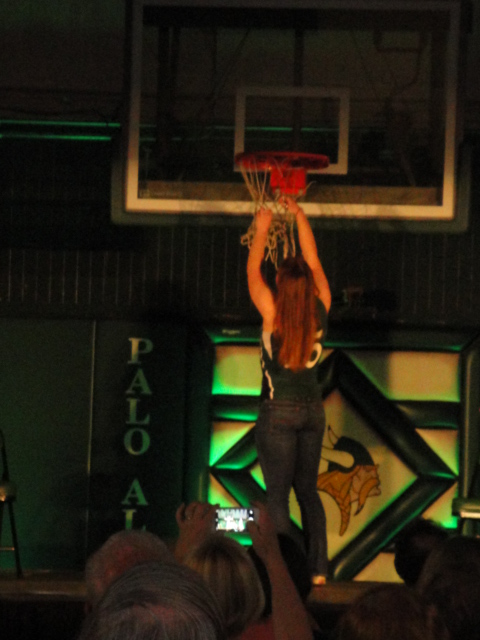 Cutting down the Basketball net which was given to Coach Wiser at the Farewell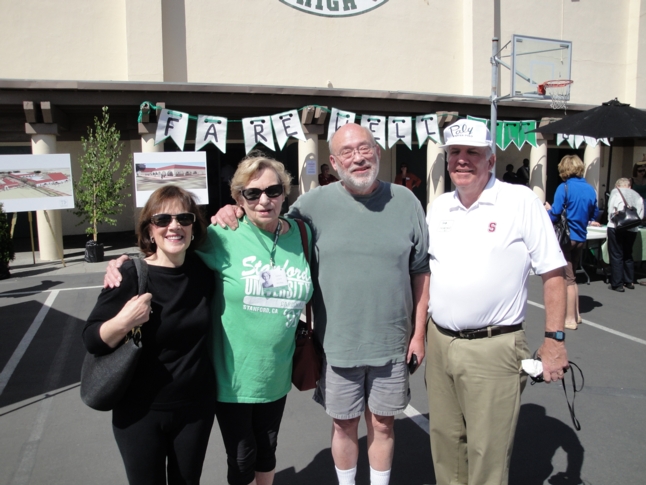 Some of the illustrious guests at the Gym Farewell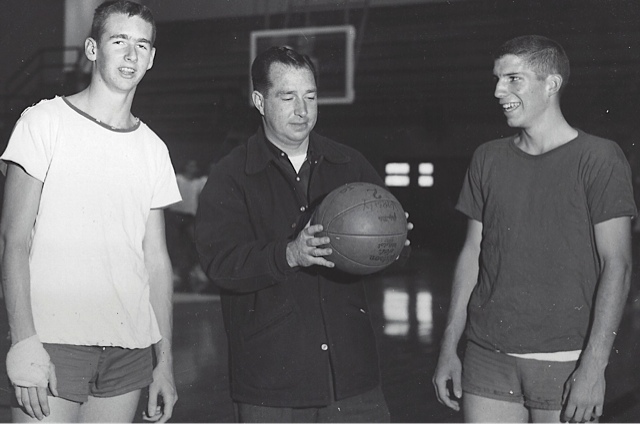 THEN: Hinck, Coach Wiser, and Stro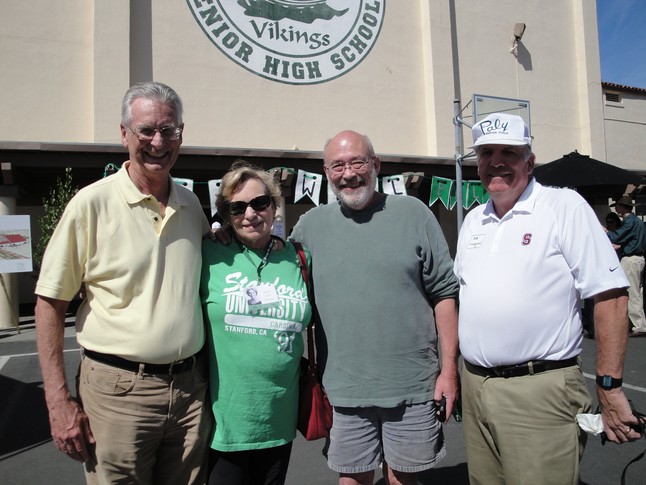 AND NOW: Kent Hinckley, Karen Goff McNay, Bill Soliday, Bob Strohecker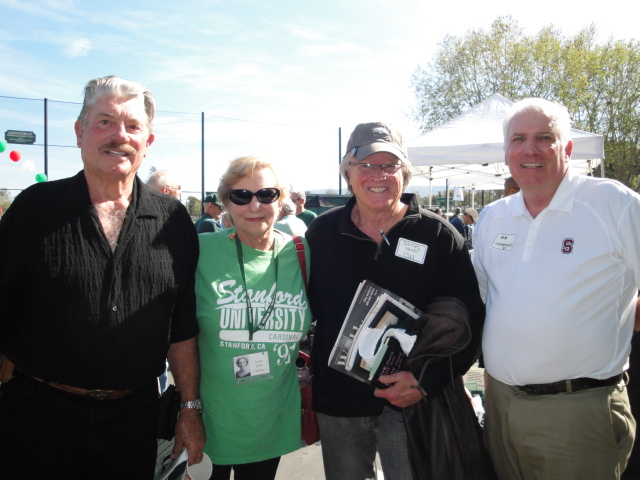 Von Dale Vaughn, Karen Goff McNay, Jim Hunt, Bob Strohecker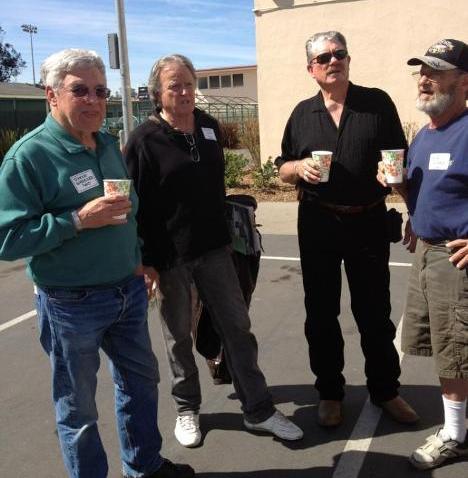 Steve Wheeler '60, Jim Hunt, Von Dale Vaughn, Bob Boaz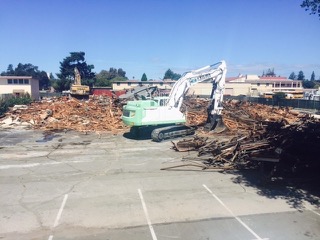 OLD GYM DEMOLISHED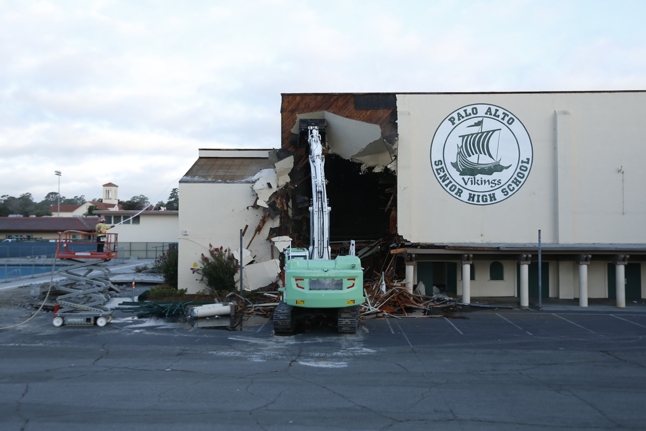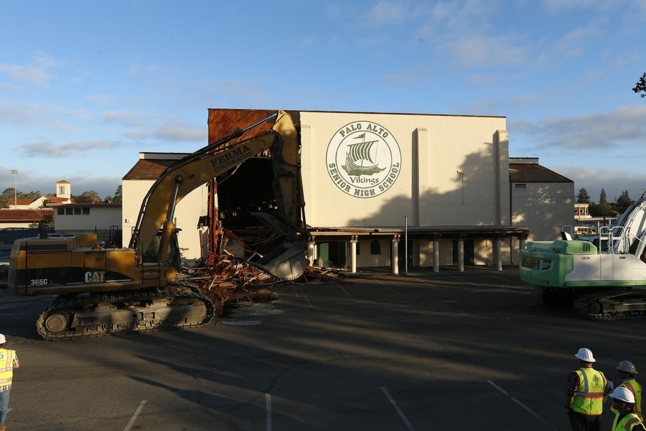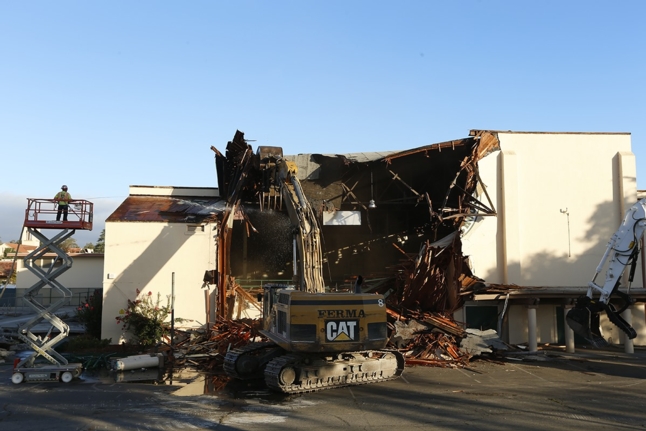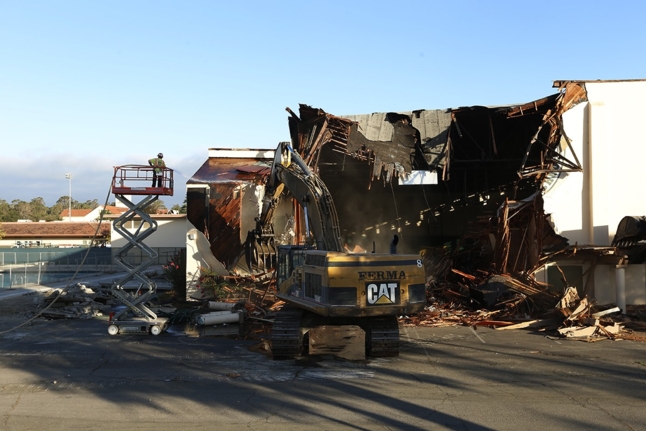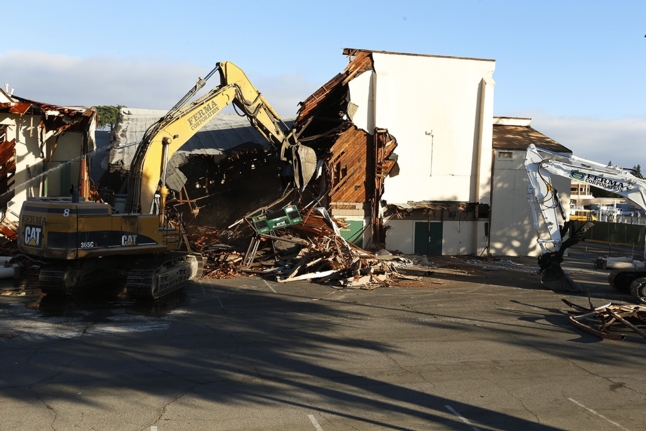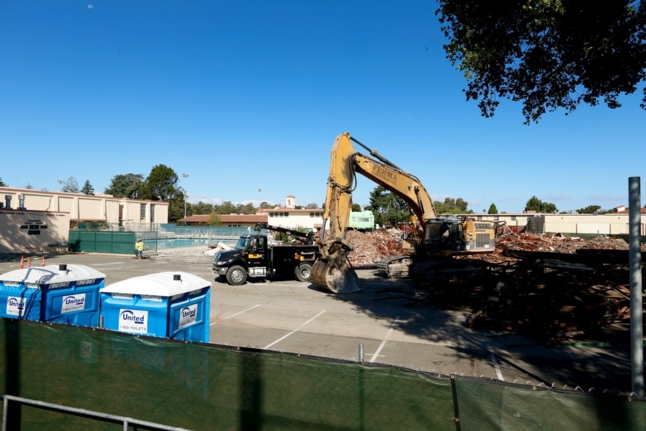 Click on the URL link below for a 13 second video of gym demolition.
https://www.instagram.com/p/7JZ5jJMUME/
A wrecking ball (OK, technically a digger) hit 86 years of memories at 7 a.m. today when the demolition of Palo Alto High School's beloved gym began. A group of spectators gathered at the bleachers by the beloved gym to watch the demolition, including a class of P.E. students who went "ooh" and "aah" as two diggers knocked down parts of the building. The much-delayed demolition was originally scheduled for summer 2014, then September 2014, then Monday, and then this morning. Demolition will take up to 10 days, according to Bob Golton, the district's bond programs manager. The gym was home to the Paly basketball team that won its first-ever state championship; famed athletes like Jeremy Lin and wrestling brothers Dave and Mark Schultz; as well as decades of sock hops, proms, concerts and private milestones. A new state-of-the-art athletic center is planned, funded in part by a local family. - The Paly Voice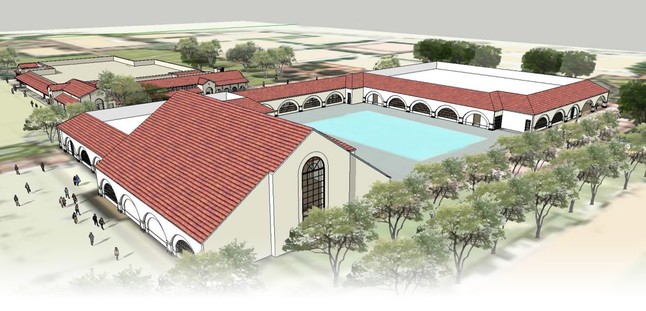 New Paly athletic center to echo historic campus
Groundbreaking for state-of-the-art facility expected for June, 2014 with 14-month construction
by Chris Kenrick / Palo Alto Weekly - Wednesday, September 11, 2013
Plans for the new athletic center that is to be built at Paly were unveiled at a school board meeting Tuesday night. The main gym is to the right (flat roof) while a secondary gym is to the left. Rendering courtesy of Tolbert Design Architects.
A new state-of-the-art athletic center for Palo Alto High School -- to break ground next May or June – will sit in the footprint of the school's two existing gyms and architecturally echo Paly's historic Tower Building.
The new complex -- two gyms connected by an enclosed loggia, or hallway -- will wrap around three sides of the existing swimming pool. The pool itself will not be disturbed.
Board of Education members Tuesday were enthusiastic as architect Jeremiah Tolbert walked them through "schematic designs" for the complex, which is to be funded largely by the Peery family of Palo Alto, which has sent three generations to Paly.
The new athletic facility should be ready for use for the fall of 2015, officials said, because of expedited construction under a "lease-leaseback" delivery method with Palo Alto contractor Vance Brown, who recently built a similar facility at Menlo School.
The new main gym will have a "Hall of Fame" corridor, a covered entry and large lobby with a ticket booth, concession stand and athletic store, a new large training room and space for visiting coaches, with a sunken main gym floor.
Team locker rooms will be directly off the main gym floor.
The hallway connecting the two gyms will be on the side of the swimming pool closest to Paly's quad.
Drawings of the "small gym" on the other side – toward El Camino Real – show a large arched window similar to that in Paly's historic Tower Building. In addition to a "small gym" that side will also contain pool locker rooms, a new wrestling/multi-purpose room, and a dance and yoga studio.
On a lower level will be physical education locker rooms, a P.E. classroom, a new larger weight room and storage.
During the year of construction, the 2014-15 school year, athletic and P.E. programs will be run out of portable classrooms on the quad as well as a temporary locker and restroom facility around Paly's wood shop. Officials said they may also erect a covered area near the new concessions building to create space for P.E. on rainy days, and also may use part of the existing student center for dance classes.
In addition, officials said they've contacted Stanford about renting temporary facilities, but will likely keep the Paly pool open because Stanford may not have pool space available.
Tolbert, the architect for the athletic center, said he's kept in close touch with architect Erwin Lee, who is designing many other upgrades to the Paly campus. Among those are a planned addition to the science building, which will look out onto the athletic center.
"Erwin and I talk about materials -- they're going to be compatible -- and we've talked in the midst of design," Tolbert told the board.
"We've talked about having the two complement each other, but they're their own separate structures."
The science addition, to be constructed at the same time as the athletic center, will include four new science labs, a "mini-prep" area, a staff room and renovations to the existing science resource center.
The science addition is part of a major, district-wide construction program covered by the $378 million "Strong Schools" bond past by voters in 2008. At Paly alone, the bond is funding a new, two-story classroom building, a new media arts building and major upgrades to the track and football stadium and the Tower Building.
Additionally, construction will begin soon on a new, 600-seat performing arts center on the Embarcadero Road side of the Paly campus, officials said.
Paly Prepares for Year of Hard Hats and Rubble to Pave Way for Gleaming Athletic Center
Posted on Wednesday, December 11, 2013 at 3:09pm | By Peninsula Press
By Benjamin Custer, Peninsula Press
Palo Alto High School's main gym, built in the 1920s, features a basketball court with six backboards, four of which cling to the railing of the upper-level stands.
The school's smaller gym dates to the 1960s and more closely resembles a community room that happens to have a hardwood floor and some backboards that protrude from its walls.
"You simply don't see gyms … that are that old and functioning at today's level," said Bob Golton, facilities and bond program manager for the Palo Alto Unified School District.
Soon, you won't see them at "Paly." Atop the desks of school administrators rest stacks of schematic designs for replacing the antiquated gyms with a state-of-the-art athletic center by August 2015. According to plans, the main gym's seating capacity will double from 800 to 1,600. A weight room will command nearly four times the space of the current version.
"The existing facilities do not have a wrestling room or a P.E. classroom," said Tom Hodges, director of the district's bond program management team. "The team rooms they have are very small and cramped. Things that right now they just sort of make do without, now we're going to actually have facilities for all of these different elements that surround athletics."
The complex will rise from the same ground where the old structures are located, with an enclosed hallway — accented by a row of arched windows on both sides — connecting two new gyms. The athletic center is designed to wrap around three sides of the school's outdoor swimming pool.
Other features of the main gym: a sunken floor, a "Hall of Fame" corridor and a large lobby featuring a ticket booth, concession stand and athletic store. A training room, a room for visiting coaches and team locker rooms are planned for right off the main gym floor. There will be P.E. lockers for 600 boys and 600 girls.
Across the pool from the main gym, the new small gym will include a full-size basketball court and two cross-courts. It will be adjacent to the wrestling/multipurpose room and pool locker rooms.
School officials hope to begin demolishing the old gyms as early as June, but must await approval from the Division of the State Architect.
In 2008, Palo Alto voters approved a $378 million Strong Schools Bond to assist the district in building and enhancing facilities around its campuses. The district earmarked a small portion of the bond for moderate improvements to Paly's gyms.
"We had a $5.4 million line item for a new weight room, wrestling room, aerobics room and some team rooms," Hodges said. "It was going to be a small sort of connector between the two existing facilities that was going to provide either an upgraded facility or a new facility that the school didn't have."
That's when a local donor — the Peery family — stepped in with the vision to give the gyms a complete makeover, and an offer to cover all costs beyond the allotted $5.4 million.
"We had always planned on a new gym, but not right now," Golton said. "The Peery family has a history of sending their children and grandchildren to our schools."
While the total donation won't be determined until construction is finished, school officials expect the Peerys' contribution to far exceed the amount afforded by the bond.
"The donor will not be writing a check to the district, but rather will be paying the contractor and architect," Golton said.
He said the district will use a lease-leaseback project delivery method. Such an arrangement allows school districts to lease property in need of construction improvements to a builder for as little as $1 per year without engaging in a public bidding process.
Also from the Peninsula Press: Palo Alto High School students show high spirits for annual tradition
School officials have taken steps in hopes of mitigating disruption to student activities while construction is underway. As far as finding a place for its displaced sports teams, Paly might not have to look any farther than the other side of El Camino Real. Golton said the school is in the process of securing sufficient gym time at Stanford to accommodate practices and games for freshman, JV and varsity teams during the 2014/2015 season.
While arrangements have yet to be finalized, Paly plans to pay Stanford for the use of its facilities. The schools are no stranger to partnerships. According to Golton, Paly swimmers used Stanford's aquatic facility during construction of the high school's pool in 2005/2006, and Stanford has used the high school's football field for practices.
Hodges said the school also aims to repurpose some of the spaces on campus to accommodate activities displaced by the construction (such as moving dance into the student center); transform existing portables into team rooms and teacher offices; and import portable locker rooms and restrooms for the P.E. classes. The school is looking to install a tent structure near the stadium's concession building to shelter P.E. classes on rainy days.
The initial plan was to maintain pool operations throughout the construction, but Hodges said that likely will not be the case. He acknowledged that it will prove challenging enough to avoid damage to the pool while razing the surrounding buildings. The school is pursuing an interim aquatic facility.
At the end of the process, the campus will sport vastly improved athletic facilities, which Paly officials see as a community asset. Golton said the school intends to make the complex available to the community when not being used during the school day.
This story originally appeared on the Peninsula Press . Benjamin Custer covers education for the Peninsula Press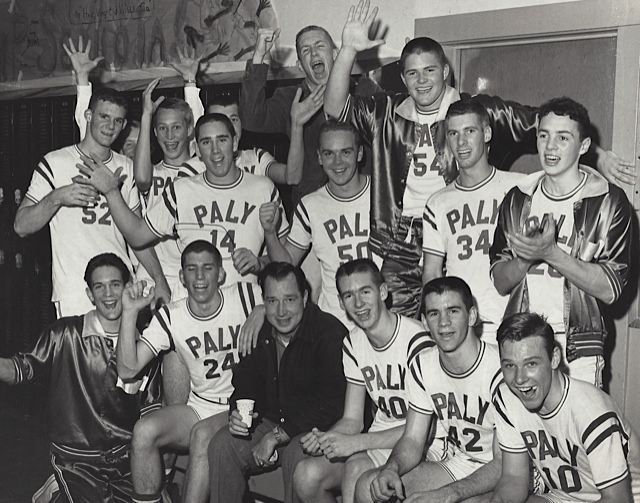 After beating Sequoia and winning SPAL 1961 Championship
Front Row: L-R ??, B. Strohecker, Coach Wiser, K. Hinckley, C. Ritchey, J. Craig
2nd Row: J Twelvetrees, H Kellogg, ??, B. Langfelder, K. Otterby
3rd Row: Hiding 1, 2, 3, ??, G. McFarland, P. Lerch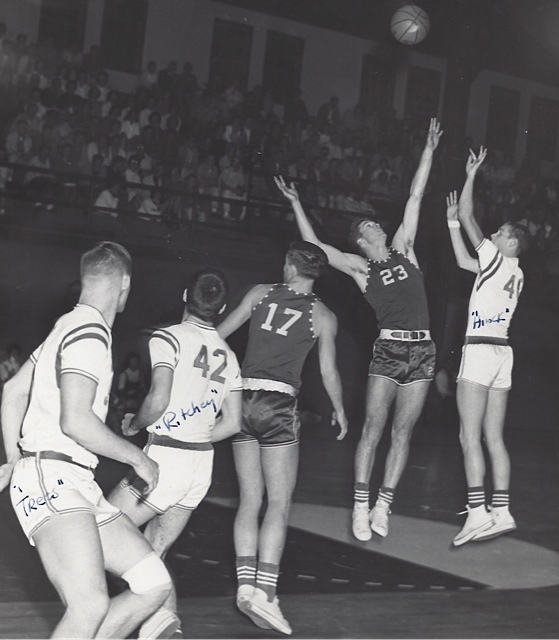 "Trees", "Ritchey" (Sequoia) "Hinck"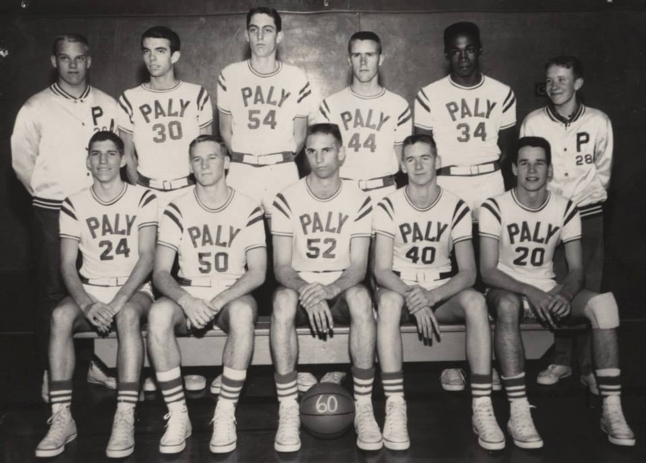 Front Row: L-R Bob Strohecker, Carpenter?, Rich Hunt, K. Hinckley, C. Ritchey
Back Row: ?? ?? ?? ?? ?? ??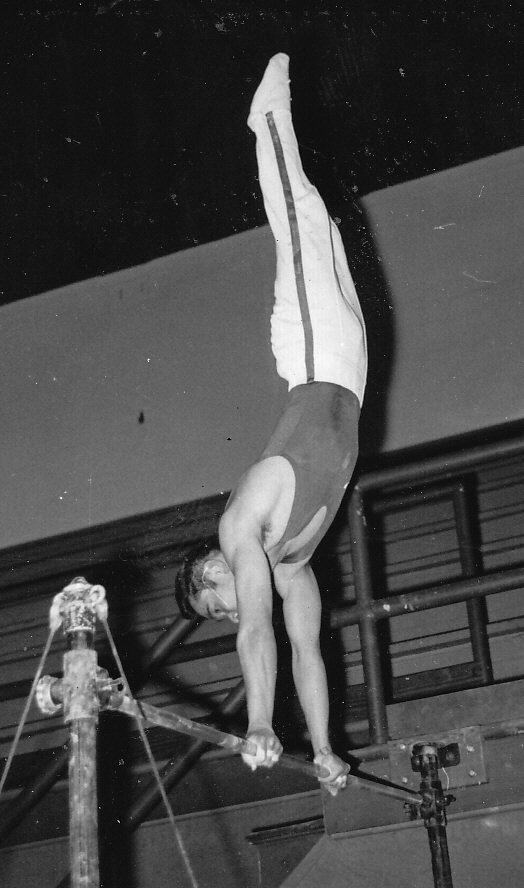 PALY GYMNASTICS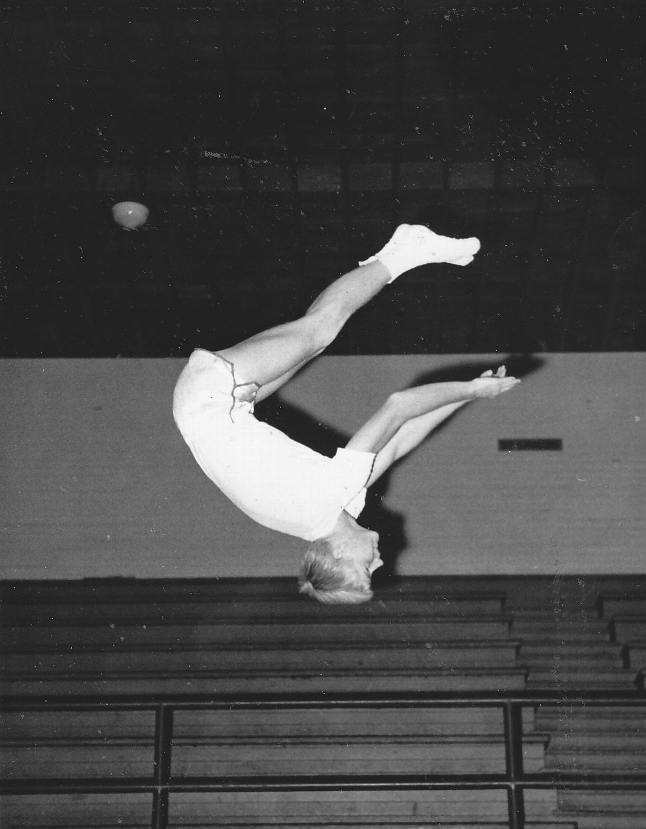 PALY GYMNASTICS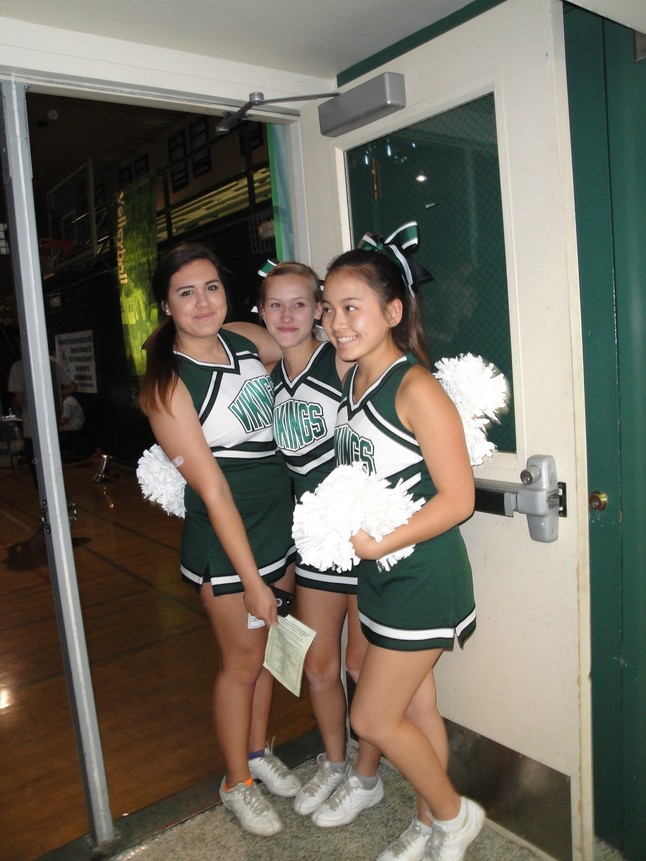 PomPon Girls - NOW and THEN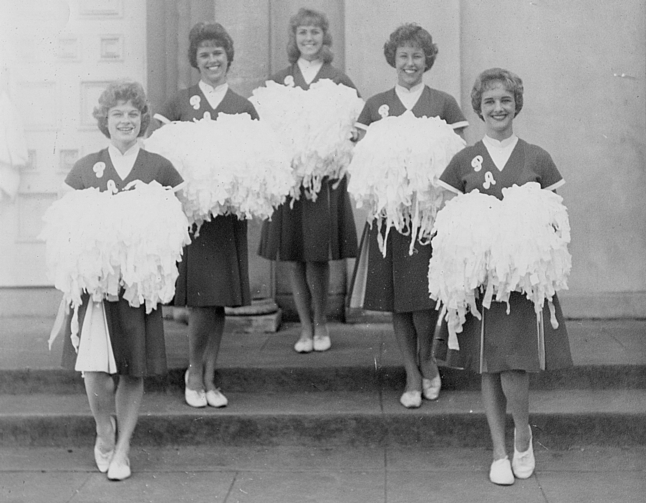 Linda Gardner, Caroline King, Carol Christenson, Jeanne Belli, Judy Janin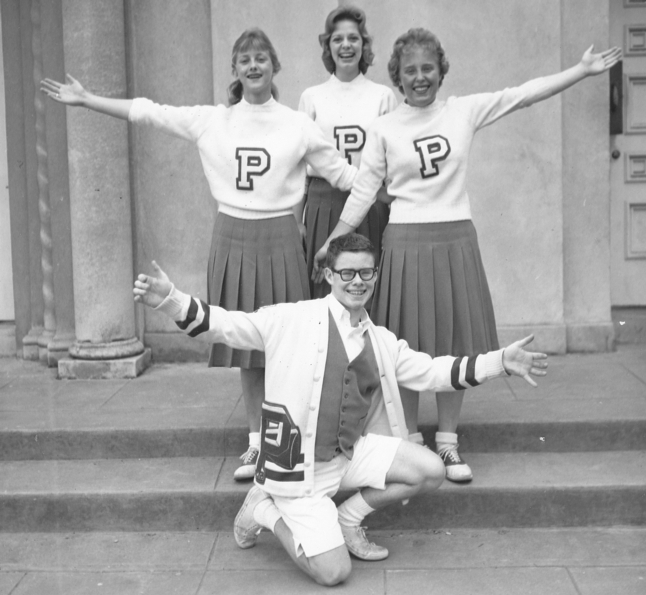 Jim Guissi, Becky Stanton, Pam McGregor, Sue Johnson

JIM GUISSI